I got such an amazing positive feedback from many, many people concerning my monsters that I decided to give all my blog readers a little gift: A tutorial to make your own RevoluzZzionary Monster. It's a simple one and even if you are a beginner you should be able to do it.
If you have any questions while you are making the monster – just contact me. And you can make the monster with a very simple sewing machine – you only need a simple stitch and a zigzag stitch.
And the cute little monster I made during this tutorial – its name is Ninni :-) – will be drawn by lot (my daughter and I like the RevoluzZza ribbon "lottery" that much that we want to have another "RevoluzZza lottery" :-)). Just leave a comment and on Friday my cute little daughter will draw by lot who will give the little beast a new home. Everybody can join – no matter where you live.
OK, let's get started!
1. Download the pattern, print it and cut out the pattern. I chose to use different fabrics for the front and the back of the monster:
—
2. Pin the pattern on the fabrics and cut it out:
—
3. Serge the part which you will use later to close the monster with a blind stitch:
—
4. Cut out the felt eyes and sew them on the front fabric:
—
5. Now fix the felt tooth (or teeth if you want to give your monster not just one tooth) while you sew the mouth with a narrow zigzag stitch: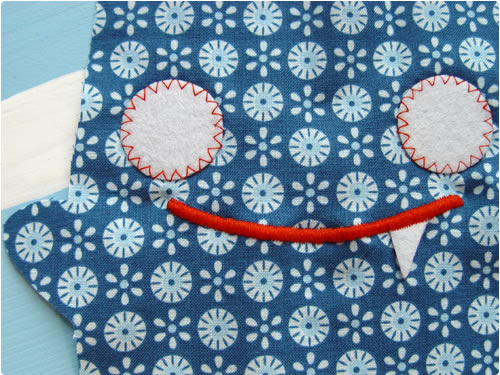 —
6. After you fixed the inner eyes you simply stitch a cross on the eyes by hand:
—
7. Stitch the felt heart on the monster front:
—
8. Now pin the front and the back of the monster with needles and sew the two parts together – but leave the part open which you will use to turn the monster inside out (the part you serged before):
—
9. Now you have to cut some parts of the monster: the ears, over the little arms and between the legs (like shown on the pattern you downloaded). Serge the monster with a zigzag stitch – narrower on the parts you cut:
—
10. … and this is the best moment when you create monsters and any kind of dolls and stuffed things: When you turn it inside out and see the final creature. Still a very flat monster – but already a monster :-)
—
11. It's almost finished. Now we only have to stuff the little beast with doll wadding and close it with a blind stitch by hand:
That's it!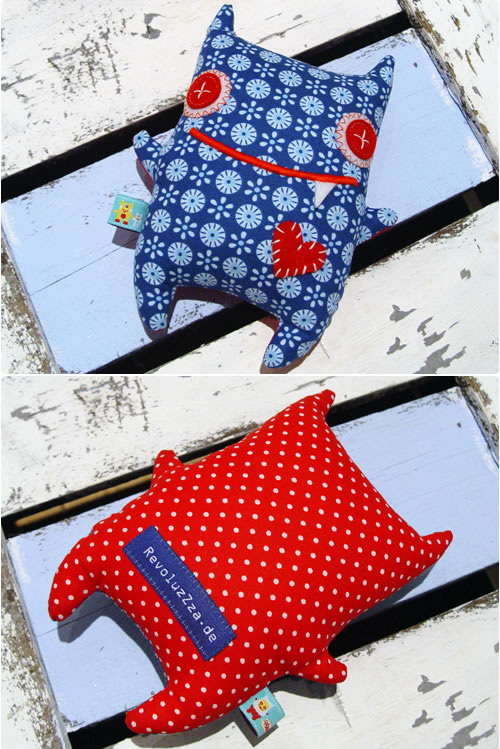 I hope you like the tutorial – and of course I'm a very curious person: So please leave a link here where I can find a pic from the monster you created using this tutorial. Or post it at my brandnew flickr-group: RevoluzZza group at flickr
—
The tutorial, my pattern and the pdf download is for personal use only! No commercial use allowed.